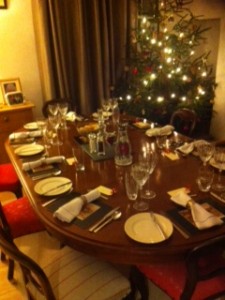 Basically Dining is a fun and interactive way to learn The Art of The Table, It is not about table manners or how to eat your soup, more the history of where the traditions came from and how they differ from place to place and country to country.
Basically Dining Easter Camp - 14/15th April 2014 10-2pm 
Prepare and cook a 3 course meal (menu specific to age group).
Learn about the Dining table, cutlery, glassware, flat ware.
Set a table correctly, what goes where? Napkins or serviettes.
 Soup, bread rolls & condiments, How to pass dishes, when to begin eating, table manners.
 Sit and enjoy a meal together
Please register below - places limited
 At New Thatch Farm, Scarteen, Knocklong
Ongoing Dining Courses by Request for Adults and Children
Basically dining – Come and enjoy lunch/dinner in a private home where you will learn the 'art of the table'. Invaluable skills whether in a private, social or corporate setting.
Invitations – what they should include and when the should be sent/replied to
Gifts for your hostesses' – what you should bring
Seating – who sits where – each place setting has a meaning.
The cutlery – 12 pieces of silver! – where do you start
Glassware – what glass, what drink, what course?
How to hold a wine glass red v white and champagne flute.
How to eat a bread roll
The correct way to pass a dish on to the next guest
How to eat a salad, eat your soup course and should I tilt my soup bowl!
Do you sprinkle salt over food?
How to eat mussels or peel a banana with a fruit knife (highly entertaining if completely impractical...)
Where should you leave your napkin or is it serviette when finished a meal, Do you fold it?
Where do you put your handbag when in a restaurant.
How should you leave your cutlery once finished a meal
What is a fish knife?
Pudding or dessert, when is the cheese course served? If serving a cheese course what should it include?
Courses can be booked and tailored to suit the needs of the group. For sample menus and further details please contact Sonia